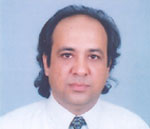 A dynamic team of creative beans and marketing professionals, Crosscheck has turned itself into a leading full service-advertising agency, serving a large clientele that mostly includes builders and developers. Crosscheck is the one stop full service ad agency for all the communication needs of real estate sector in Pakistan.
Crosscheck now has access to more resources and deeper capabilities than ever before due to the complementary support of The Real Marketing which is the largest real estate marketing company in Pakistan and an associate company of Crosscheck.
Crosscheck's association with Lakhani Builders reflects its sheer commitment with the quality and value. People at Lakhani Builders always believe in offering innovative housing solutions. Lakhani Builders is a team of educated professionals of high caliber with vast experience comprising of renowned architects and engineers well versed in modern techniques and expertise.
We appreciate Lakhani's close coordination with us has been instrumental in the success of their projects we have launched so far.
Crosscheck Communications (Pvt.) Ltd.
The Real Marketing