Tanveer Ahmed Associates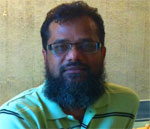 Tanveer Ahmed Associates Offers a wide range of architectural and interior design services locally as well as globally. It is a group of qualified professionals, who are inspired of overwhelming commercialization of the profession, strongly believe in a personal rapport and close association with their clients. Our core motive is to provide multidisciplinary solutions to our client need, sharing equally with their aspirations and the projects objectives. Giving a highly professional service to end user, not only in terms of design quality but also in terms of budgetary constraints, project deadlines, technical soundness and competitive rates is the main objective of our business.
It has been a pleasure working with Lakhani Builders. They have a dedicated team of professional engineers & highly qualified staff. We design a fool proof architect plan with the coordination of Lakhani builders. Architect plan of "Lakhani Presidency" is having 5 star amenities like Gated Community, 5 Star High rise building, Secured environment, Swimming pool, gym, children play area, Luxury pent houses with Jacuzzi with pool, fire fighting system , etc.
Each apartment is designed with 6.5ft wide windows that will make the apartment fully ventilated and bright, Modern kitchen, Security systems, allocated car parking, wide driveways within the blocks , reception lobby and all high class amenities are the key features of Lakhani Presidency. Location of the Project itself is the key salient feature of Lakhani Presidency as it is located centrally having quick approach to every area of the city.
We are consulting Lakhani presidency for architect and committed with future projects of Lakhani Builders.
Thanksfuture
Tanveer Ahmed Associates
www.Tanveerassociates.com
Taqi Khan & Associates

Lakhani Presidency, A project which marks its presence by being tallest apartment building, catering complete residential needs of a large family. This is a refreshing addition in Karachi's skyline & a valuable contribution to Residential fabric with an apartment that elevates the living standard of its residents, allowing nature to participate in their life and get the best out of it.
Elaborated design that allows all the amenities including cultural, religious & health facilities which makes this project, self sufficient in its own environment.
Lakhani Presidency, located in a vicinity which is very much open, in overall densely populated Karachi's land, having two of its towers standing, marking their presence by scale & compact design, yet allowing for apartments to have larger than usual lounge, bedrooms and terraces. Every room have windows with distant Cityscape views and in addition provides sufficient amount of light and ventilation required. Kitchen is centrally located but enclosed enough to provide privacy as well. Bath rooms with provision of all modern style fixtures & specially carved and cantilevered vanity top coming out of wall having appropriate lighting options. This makes the floor cleaning easy and to maintain hygienic standards as well.
Environmentally speaking, this project provides a relief to what is available in the market, the pigeon hole character in the name of residential units, which does not by any standard fit for human needs of living, in a very high price.
As appose to Lakhani Presidency, after many design revisions, public response & feed back from the owner of the project, leads to an improved design from its original idea.
The honest, careful & vigilant site staff under Architect's instructions, which at the end resulted better quality product almost ready to be delivered, is the example of responsibility, dedication of the project team at site & visiting consultants.
The building exterior with mostly painted surface & glass exterior. Windows all around & balconies for maximum natural light & the building interior, by providing niches & their lighting which makes it attractive & create openness, for people looking for elegant living.
Lakhani presidency is a project which brings you a fresh & new approach to the apartment culture which will help, sharing living recourses & at the end make it a landmark of its kind as part of the mega city
Taqi M.Khan ( Principal Architect )
Taqi Khan & Associates
Arch Vision Plus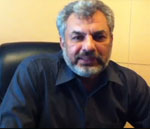 Akbar Jamil Founder and Principal of Arch Vision Plus – A multidisciplinary consulting firm. Syed Akbar Jamil studied architecture at Dawood College of Engineering and Technology (1986). In 1989 he started a firm with name Arch Vision as a co-partner, and in 2004 he started his own multidisciplinary firm Arch Vision Plus.
We have been working with builders and developers since our foundation, among them Lakhani builders are a renowned firm in the construction industry.
Lakhani Builders work under complete integrated design-build service, streamlining the design-permitting-construction process under a single management authority.
They are specialized in the art of fine custom design-build modeling for residential and commercial projects.
Lakhani Builders has engaged professionals in Residential and Commercial Planning and Development compassing all probable needs, provide lavish and extraordinary amenities to worth its client's money. The company enjoys an unblemished reputation in the field of construction and infrastructure development and ensures to provide the real value of money to their clients.
They have always preferred to infuse the unique features designed to suit a modern lifestyle at affordable prices to its end user. They have become national brand in the field of construction which is socially responsible towards building a strong nation.
We are associated with Lakhani Builders since last 10 Years and designed many projects for them. Lakhani Presidency and upcoming future projects are in queue with high tech amenities & most modern concepts of lifestyle.
Arch Vision Plus
www.Archvisionplus.com